Value Your Trade

If you need to value your trade, you can do that with Friendly Dodge Chrysler Jeep Ram. Our finance center experts are here to help you assess your car's trade-in value and put you behind the wheel of your next car, truck, or SUV.
Drivers near the Hamilton, Madison, or Smyrna, NY, areas can complete our form on this page to value your trade. As always, reach out to our dealership if you have any questions.
---
How to Value Your Trade
If you're shopping for a new or pre-owned car, then you probably have a car that you need to trade in. Our dealership can help you out with that in just a few simple steps:
Complete the online form for an estimated trade-in value
Have your car's trade-in value appraised by a professional
Complete the deal
Once you fill out our form to value your trade, we'll provide you with a quick estimate. Then, one of our experts will reach out to you to set up a time to check out the car for themselves in person. This will give you an accurate trade-in value, which is what we'll offer.
All that's left to do after that is seal the deal. We'll take care of the rest!
---
How is Trade-In Value Determined?
When you're trading in a set of wheels, there are a variety of factors we look at to help us value your trade. Yes, this includes the year, make, model, and mileage of your vehicle, but we'll also look at other factors, like:
Vehicle condition
Vehicle age
Vehicle mileage
Number of owners
Tire condition
Options and add-ons
Service history
Much of this information can be found in the Vehicle History Report (VHR), which uses your Vehicle Identification Number (VIN) to track important data like service visits, accidents, mileage, and number of owners.
Appraisers may also look at things like paint color and whether the color matches factory standards. For these reasons, it's important to protect your car's trade-in value by limiting modifications as much as possible or by sticking with changes that are easy to revert back to factory specs.
---
Why Trade Your Car in at a Dealership?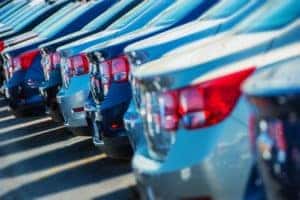 While it's absolutely possible to put your car up for sale by owner, we find that trading in your car with a dealership tends to provide much more convenience and accuracy. For example, dealerships have trained vehicle appraisers on their team who can provide a more accurate trade-in-value than you may get from books or websites that simply provide a rough estimate.
Also, drivers trading in a car are often looking to take the wheel of something different, so dealerships allow you to sell your current car and buy or lease your next one in a single visit. Car dealerships like ours have a large inventory of new and pre-owned cars that you can browse while your vehicle is being appraised.
If you see something you like, that's great! We'll gladly apply the trade-in value of your current car to your next loan or lease. Just let our finance center team know, and we'll do the work for you.
---
Value Your Trade Today!
Are you ready to trade in your car in the Hamilton, Madison, or Smyrna, NY, areas? Then complete our form and a representative from Friendly Dodge Chrysler Jeep Ram will be in touch.
Go ahead and value your trade then contact us today!