Mopar Service in Hamilton
Hours:
Mon - Fri : 8:00 AM - 5:00 PM
Dealership Amenities
Mopar provides authentic OEM parts for your Chrysler, Dodge, FIAT, Jeep, RAM or SRT vehicle. We also offer OEM accessories and performance parts for your vehicle to make sure it's customized to your heart's desire.
Certified Technicians
Free WiFi
Goodyear Tires
Michelin Tires
We Offer Mopar Accessories
We Offer Mopar Performance Parts
We Offer Rentals
Saturday Service
We Do State Inspections
When it's time for routine maintenance, Friendly Dodge Chrysler Jeep Ram is at your service. Our state-of-the-art service center helps drivers like you in the Hamilton, Madison, and Smyrna areas keep their cars in great shape by providing high-quality routine automotive maintenance.
Want to learn more about what we do? Keep reading below. Then, contact us to schedule your service visit.
Chrysler Dodge Jeep Ram Parts Center
Automotive Services We Offer
At our dealership, we understand how crucial regular, high-quality, routine maintenance is to keeping your car on the road for a good long while. That's why we provide a long list of services, including:
Oil changes
Coolant flushes
Tire balances
Front end alignments
Muffler/exhaust repairs
Electrical services
We also do brake repairs and brake pad replacements, plus we can help you rotate your tires to ensure even wear. When you're due for your yearly state inspection, we can help you out with that, too!
Whatever your reason for visiting our service department, you can be sure that all work will be completed by our team of factory-trained and -certified technicians.
Genuine OEM Parts and Tires
If you need to visit our dealership for a repair, or if we notice a part that needs to be replaced during a routine inspection, we'll offer you genuine original equipment manufacturer (OEM) parts. We do this because we believe in getting the job done right.
OEM parts come straight from the manufacturer and are the parts that were installed on your vehicle when it was first being built in the factory. Because of that, these parts are almost guaranteed to be a great fit, compatible with the other parts of your vehicle, and are more likely to be warranty-compliant.
We keep all the essentials on-hand, but we'll gladly place a special order if there's something specific you need. You can order parts, as well, through our online order form.
When the weather gets colder, we also invite you to visit our tire center. We stock all-weather and winter tires from the leading manufacturers. We'll be happy to talk with you about winterizing your car and fit you with a great set of snow tires for the colder seasons.
Service Department Amenities
It's our goal to provide local drivers with efficien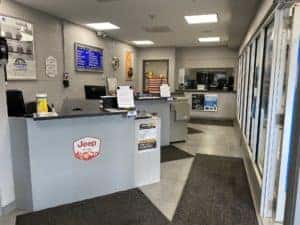 t service that's still thorough and high-quality. While we get to work, you're welcome to hang out in our comfortable customer lounge. Feel free to enjoy our HD TV and complimentary refreshments while you're here!
If you have some errands to run or you work in the area, ask us for a shuttle service to nearby shopping or business campuses. For more extensive or post-collision repairs, we'll gladly set you up with a rental car from our lot, so that you can get back to your day without missing a beat.
Plus, we offer a convenient online scheduling portal where you can make your service appointments. Go ahead and check it out to schedule your visit!
Service Your Vehicle at Our Dealership
If your car is in need of service in the Madison, Hamilton, and Smyrna areas, then visit the service department at Friendly Dodge Chrysler Jeep Ram.
Contact us and make your appointment and get your car the care it needs today!