How Do Dealerships Value My Trade?

Looking to get behind the wheel of a fresh and exciting vehicle? Shaking things up every now and then will keep your drives around Hamilton, Madison, and Smyrna, New York, fun and engaging. Trading in your current ride will help you get in the driver's seat of your next car more easily, but how does the process work?
The team at Friendly Chrysler Dodge Jeep Ram of Hamilton knows how important it is to know every step of the process, and we're here to help. If you've ever wondered "how do dealerships value my trade," then this guide is for you. There are several things that go into determining the value of a used car, and it will benefit you to know more about them!
Appraising a Trade: The Basics
---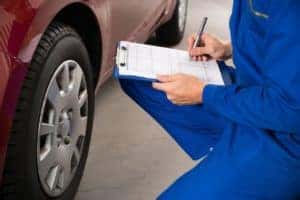 Whenever you go to sell or trade a car, there are many aspects that contribute to its overall worth. The primary factors at play are all about the type of car in question. These are innate to the vehicle, and play a major role in its appraisal:
Along with age (more recent model years are typically valued more highly), the manufacturer and model of the car are among the most important aspects of your ride. If your specific year, make, and model is particularly rare or sought after, then its value may increase.
Mileage is another important facet of the car when it comes to determining its worth. More miles on the odometer show that the car has been driven extensively, while lower miles clocked on the odometer mean that the vehicle likely has a lot of life left in it, thus increasing its value.
While there's no changing these parts of your car, there are additional qualities you can take into account to potentially increase your car's trade-in value.
Quality, Condition, and History
---
A dealership's trade appraisal team will take the overall status of the car into account. This includes how well it performs, how well the exterior and interior appear, and how well maintained the car has been over its life. These are some of the key areas where your work can help increase your car's value.
Cleaning and sprucing up your ride may result in a higher value for it. If you can see an auto body shop about detailing your car, that will give it the like-new sheen and shine that draws the eye. Detailing also covers the inside of the vehicle, so you'll be in great shape when you go to trade your car.
Proper maintenance and service will keep your ride in great working condition, which will also increase its value. If you have comprehensive documentation of service performed on your car, that will give added peace of mind to whoever is buying it. Stay up to date on your car maintenance schedule and keep records to increase your ride's overall worth.
Trade in Your Car Today
---

If you're ready to get started with a new ride, come see us about trading in your current car. You're mere steps away from your next exciting drive near Hamilton, Madison, and Smyrna, NY.
Contact the team
at Friendly CDJR of Hamilton and start your trade-in process today!
---
Friendly Dodge Chrysler Jeep Ram is located at:
6512 Wes Rd • Hamilton, NY 13346