Wolf Oak Acres: Best Wedding Venues in Madison County NY
What could possibly be more romantic than the idea of meandering along the peaceful, nature-filled trails of Upstate New York with your soon-to-be spouse?
Well, if a countryside wedding surrounded by the gorgeous Madison County landscapes is what you've always dreamed of, start planning your big day at Wolf Oak Acres.
From the rustic, home-away-from-home cabins to their multiple ceremony locations, and everything in between, this full-service wedding is the very definition of modern farmhouse chic.
So, if you're ready to explore every corner of this whimsical, magical wedding venue, snuggle up on the couch with your fiancé and take a look at our pick for the best wedding venue in Madison County!
Your Ceremony: Where Will You Say, "I Do"?

Every couple is different, which is why it's important that you have lots of different options to choose from for your ceremony. Each of these locales helps you and your bride or groom capture the ideal atmosphere that's you're attempting to achieve for your celebration of love.
For the Nature-Loving Couple
For instance, the waterfront setting serves as a peaceful backdrop where you and your loved one can proclaim your vows in front of your family and friends.
For the Romantic Couple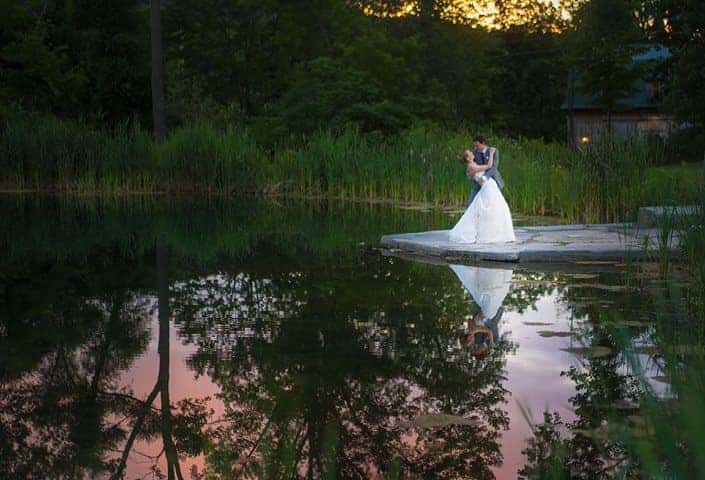 Wolf Oak Acres provides alternative spots amongst their sprawling grounds to tie the knot, such as their meticulously landscaped garden. This quaint locale features seasonal plants that add just the right amount of color to your nuptials.
For the Whimsical Couple
Is there anything more magical than expressing your adoration for your darling than holding your wedding ceremony in a shady meadow? Well, Wolf Oak Acres has the answer to your whimsical prayers at their creekside woodland grove.
For the Classic Couple
Wolf Oak Acre's charming, wooden chapel is the perfect backdrop for any ceremony or photo shoot. You and your guests will love taking pictures in front of the chapel's classic facade.
For the Cozy Couple
Summer showers and chilly conditions bring your vows inside the barn for a starry-eyed ceremony in front of a stone hearth. Located inside this venue's main barn, you'll have the perfect setting for that rustic, countryside wedding.
Full-Day Wedding Package: What's Included?

Of course, your dream wedding day can only be achieved with lots of help from experienced wedding professionals. Fortunately, Wolf Oak Acres has curated a full-day wedding package that includes all the essentials for a magical event.
If you're looking for some of those unique extras to add to your big day, these wedding masters even offer a special list of preferred vendors that have worked with Wolf Oak Acres before. That way, you can trust that they know exactly what to do to bring your vision to life.
Before the Big Day:
To help you prepare for one of the most important celebrations of your life, Wolf Oak Acres provides couples with lots of assistance and convenient amenities from the moment you choose their venue up and until the ceremony, such as:
Catering room prep
Year-round assistance
Preferred vendors
On-site rehearsals
On-site parking
Handicap accessibility and more
Your Wedding Day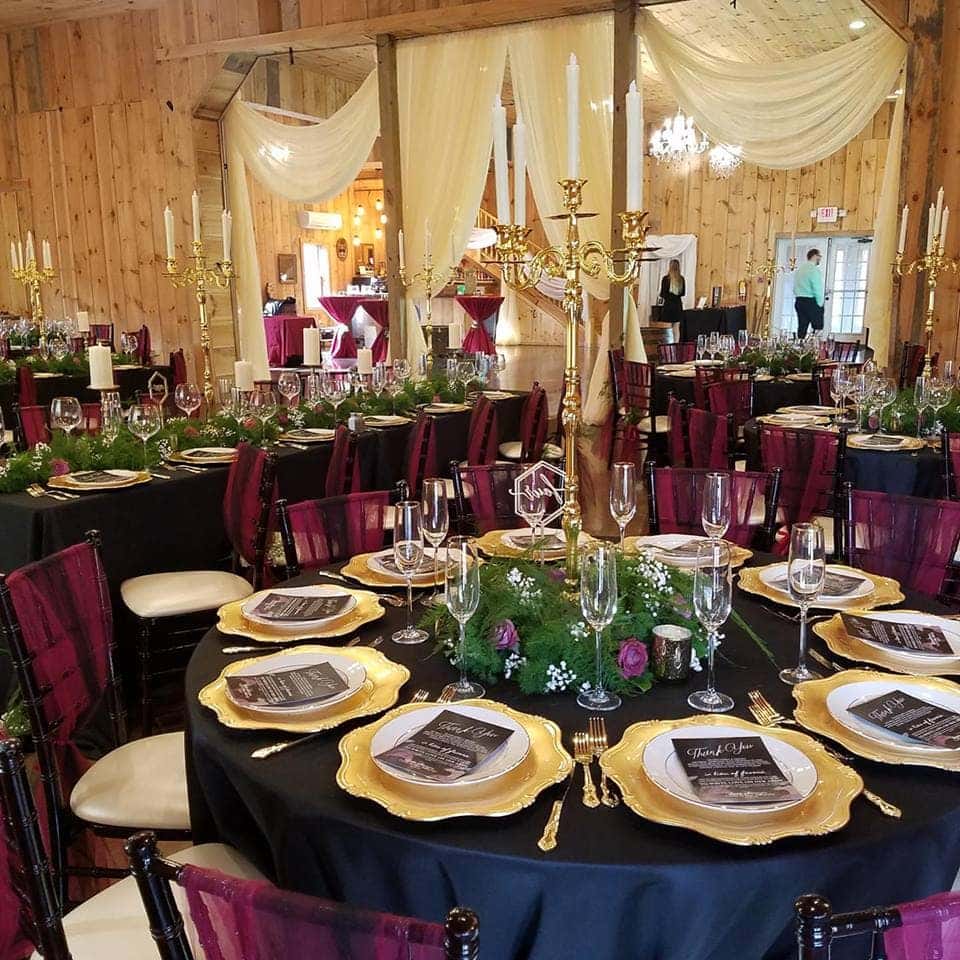 Once your wedding day finally rolls around, you'll be supplied with the amenities you and your guests need for a memorable celebration, including:
8,000 square-foot venue: maximum capacity of 240 guests
Waterfall photo ops
Bridal changing rooms
Groom changing rooms
Handicap-accessible bathrooms
Climate control
Wi-Fi and cable
Tables and chairs (indoor and outdoor)
Decorations
Shuttle bus and everything in between
After the Celebrations
Sometimes, the last thing you want to do after you've tied the knot is spend hours traveling to your honeymoon destination. That's why Wolf Oak Acres brings the honeymoon directly to the bride and groom with their rentable cabins.
Each of their honeymoon cottages features a private queen bedroom, a full bath with dual shower heads, a completely stocked kitchen, and all the other accommodations you need for a romantic stay.
All of that gets a healthy dose of cozy, Adirondack-inspired décor to create a comfortable, homey environment that's ideal for relaxing with your husband or wife.
Tie the Knot at Wolf Oak Acres Today!
Ready to take the plunge? If so, make sure you host your wedding at one of the best wedding venues in the Madison County: Wolf Oak Acres! Start planning the nuptials of your dreams by visiting in person or giving their team of wedding fanatics a call today.