Best Café in Hamilton NY

How do you create a living room in the center of town where all are welcome? How do you capture that home-sweet-home vibe that envelops weary travelers and caffeine-jacked locals alike into its aromatic, laid-back, cozy atmosphere? Well, if you're like the team at Flour & Salt, you create a café.
This quintessentially Hamiltonian cornerstone serves up some of the best baked goods around. Not to mention each one pairs perfectly with any of the piping-hot or cheerfully chilled drinks that are ever so expertly whipped up behind the counter.
Let's not delay your taste test of this local hotspot any longer. Take a look at our rundown on the best café in Hamilton, NY: Flour & Salt Bakery and Café!
Flour & Salt: The Beginnings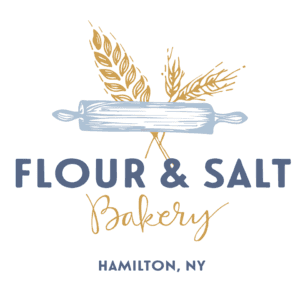 The perfect café is a symphony in the making, a series of essential parts that lay the foundation of a crowd-pleasing café where locals flock to for refuge—whether from daily life or drowsiness.
To achieve this delicate balance, husband and wife duo, Britty and Brendan Buonocore first looked to the quaint streets of Hamilton, NY, the town that captured their hearts in 2015. The result? A homestyle hangout with all the necessary ingredients for a soul-soothing stint between its walls.
The Main Course: The Grub and the Gulp
To pay proper homage to Flour & Salt, we must first address the most pressing matter: Those blissful baked goods. No matter what your appetite demands, this homey hotspot has the antidote. Take their sandwiches, for example.
Not only is the vehicle for these sammies–your choice of a bagel, brioche roll, milkbread, biscuit, or gluten-free hash brown patties–made entirely from scratch, but they're also loaded up with an assortment of mouthwatering toppings.
Say Uncle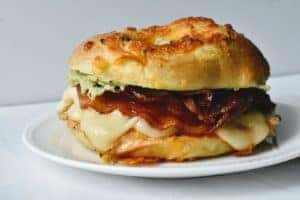 Spice lovers unite! Say Uncle ignites your taste buds with a farm-fresh egg, sausage, jalapenos, pepper jack cheese, and house-made sriracha ketchup.
Maple My Day
How about some coffee on your sandwich? Maple My Day keeps you guessing with coffee brown sugar bacon, a fried egg, cheddar, and maple pepper butter.
The Colgate
A Colgate classic. It all starts with an egg and bacon. Then, this scrumptious sandwich gets servings of American cheese, avocado, tomato, and finally, a generous slathering of chipotle mayo.
Of course, this is only a small selection of the many sandwiches that Flour & Salt has to offer. Peruse the menu in its entirety by visiting their Facebook page! Don't forget about their Build Your Own menu, too.
Wakey Juice Wind-Up: The Coffee Bar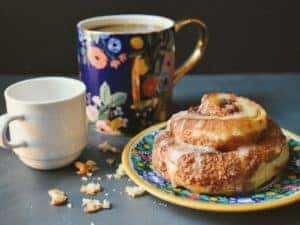 Coffee classics abound at Flour & Salt. From good, ol' drip coffee to Café Au Lait and much more, this java joint proudly serves coffee and espresso that's locally roasted by Peaks Coffee Company.
Celebrate the unique creations mixed up by these baristas by sipping on their Honeybee Coffee, which combines the rich flavors of their iced coffee with half and half and a touch of honey. Talk about a buzz!
If you're craving a creamy, sweet caffeine boost, check out their menu of espresso elixirs. You'll find all the crowd-pleasing favorites of a true caffeine connoisseur, such as Macchiatos, Cortados, Cappuccinos, and many other cure-alls.
Live La Vida Mocha at Flour & Salt!
Although the freshly baked and brewed delights on this page are only a handful of the dizzying array of homemade victuals awaiting you at Flour & Salt, there's no doubt that you're ready to take a bite. Now, all you have to do is pay this cozy café a visit. Pull up a chair and sip on your favorite coffee elixir today!