Ram 2500 vs Ford F-250

Calling all big truck fans! If you're a driver in Hamilton, Madison, or Smyrna, New York, looking for a pickup truck that works as hard as you do, we've got the options to show you. It's likely that the Ram 2500 and the Ford F-250 are pretty high on your list of prospects, and our team at Friendly Chrysler Dodge Jeep Ram (CDJR) of Hamilton is ready to break it down for you.
That's why we've put together the following 2021 Ram 2500 vs. Ford F-250 comparison—as an attempt to assist you in narrowing down the possibilities even further. We'll be taking a look at what each one of these fully capable pickup trucks has to offer within the categories of convenience, comfort, and technology. Read on to get one step closer to deciding which one is right for you.
Aspects of Convenience and Comfort for the Ram 2500 vs Ford F-250
Convenience is bound to be a high priority during any vehicle search. If this is the case with you, you'll be interested to know that the 2021 Ram 2500 sets itself up to be a major player in this area. It starts out strong with standard features like 4-way driver and passenger seat directional control, manual reclining, as well as available heated seats, power shifting and lumbar support, and more.
Another aspect of convenience in the Ram 2500 is standard wireless phone connectivity and voice-activated audio control. You can also ask us about the Ramcharger Wireless Charging Pad, which is available in Ram vehicles and will allow you to keep your phone powered up without having to bring along any cords. This is a similar feature available in the Ford F-250, another upgrade you'd have to opt for.
When it comes to comfort, the 2500 continues to impress. For instance, you and your front-seat passenger can look forward to enjoying a cozy ride due to the available Ventilated Front Seats. This is yet another feature that can only be achieved in the F-250 when you shoot for the Lariat Ultimate Package.
The Technology Comparison
Technology is another area where the 2021 Ram 2500 is a noticeable standout. It accomplishes this by placing several handy tools right at your fingertips. A big example of this would be found in the touchscreen display that provide you with easy access to controls and settings without taking too much of your attention away from the drive itself. You'll have the opportunity to explore the roads at length with an available 12-inch touchscreen display size, built specifically for your convenience.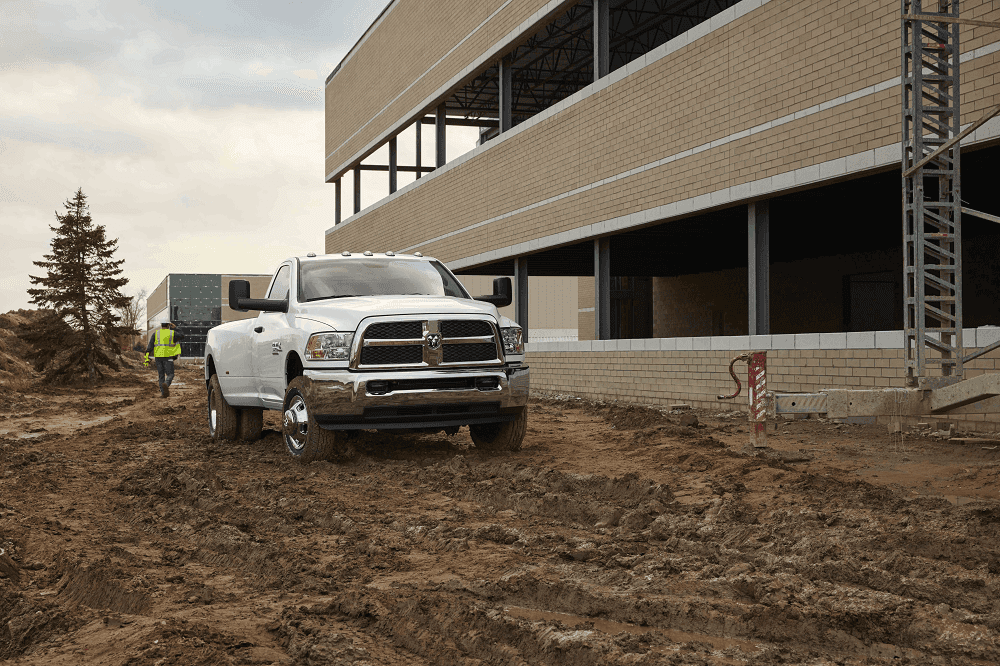 With this handy tool, you'll be able to access navigation, as well as a customizable home screen that you can change up to suit your tastes. With split-screen capability, pinch-and-zoom technology, and physical controls for other key features, changing up the features of your 2021 2500 will be a breeze. And that's not to mention the entertainment aspect!
In the Ram 2500, you can opt for systems that make your drive feel like a party. Its interior is enhanced by a series of frame-mounted active-tuned mass modules, as well as active noise cancellation that makes your music reverberate with concert-like sound. Try out the available 900-watt Harman Kardon® Premium Audio System, featuring an incredible 17 speakers—which also just so happens to be the highest number of speakers available in terms of sound systems.
The Ford F-250 doesn't provide you with nearly as much variety here. The available LCD touch productivity screen is available, but it tops off at eight inches, and it simply doesn't come close to the 2500 model's available size.
Learn more about the Ram 2500 here!
Let's Talk Ram Dimensions
We know that comfort behind the wheel isn't just about convenience. It's about finding that set of wheels that allows you to kick back and stretch out or more easily maneuver those New York roads and then some. So, when you hop into the 2500, for example, what does it feel like? Let's talk measurements and what to expect from them.
In the 2021 Ram 2500, you'll have:
40.9 inches of front legroom
39.8 inches of front headroom
62.9 inches of front hip room
65.9 inches of front shoulder room
62 cubic feet of passenger volume
These comfortable dimensions are made evident by its exterior measurements, as well. After all, how else would you determine the space inside, if not for the space outside? With an exterior length of 232 inches, a width of 79.4 inches, a height of 78 inches, a wheelbase of 140.5 inches, and a front/rear track of 68.7/68.1 inches, you're well on your way to peak ease behind the wheel.
Likewise, several models in the 2500 lineup allow for impressive storage options, such as the Mega Cab®, which showcases 43 inches of rear-seat legroom. How's that for space to extend your legs?
Cargo carrying options are what Ram prides itself on, and you'll be set for your next adventure when you fill up its trunk. The 2500 simplifies packing by offering available forward-fold-flat rear seats, which make for a significant amount of space—eight more inches, to be exact. Stay on top of your gear and accommodate passenger comfort at the same time in the 2021 Ram 2500.
2021 Ram 2500 vs Ford F-250: The Results
We've just compared the 2021 Ram 2500 vs. Ford F-250 side by side. Now that you've read about both in depth, have you chosen a favorite? We know which side we're leaning towards—with its accommodating conveniences, cozy comforts, and supportive technology, the Ram 2500 manages to show itself as the superior option. Now that you've had a peek into the kinds of things it can do, you're ready to try it out in the flesh.
Want to get your hands on it? We can help with that. If you call Hamilton, Madison, or Smyrna, NY home, you can make this happen by contacting Friendly CDJR of Hamilton to schedule a test drive. Get in touch with us today to make that dream ride a reality!