2021 Ram 1500 vs Chevy Silverado 1500

When the roads of Hamilton, Madison, and Smyrna, New York, throw the unexpected your way, you need something strong. An unflinching pickup by your side that's ready to take anything head on. Well, both the 2021 Ram 1500 and the 2021 Chevy Silverado 1500 offer up the necessary muscle for any type of hustle.
However, if you're looking for an unparalleled champion that's equipped with all the essentials for a productive day, only one of these brawny trucks will do.
To find out which one crosses the finish line first, check out this 2021 Ram 1500 vs. Chevrolet Silverado 1500 vehicle comparison created by Friendly CDJR of Hamilton. With one glance at the winner of this pickup face-off, you'll be eager to claim your spot at its helm.
---
Ram 1500 vs Silverado 1500: Two Towing Titans
One of the most important questions for a truck owner to ask themselves is: "How much equipment do I plan to haul?" Luckily, that question will be answered by the impressive trailering abilities provided by both the 2021 Ram 1500 and the 2021 Chevy Silverado 1500.
But, when it comes to towing strength that outpaces the competition, the Ram 1500 is your go-to performer. Take a look at how these trucks match up:
When equipped with the available 5.7L HEMI® V8 engine, the Ram 1500 can pull up to 11,610 pounds. The Chevy Silverado 1500 comes with a similar 5.3L EcoTec3 V8 motor. However, it falls short of its Ram counterpart, offering 11,500 pounds of towing capacity.
However, the Ram 1500 capitalizes on its available 5.7L HEMI® V8 engine by adding eTorque. This raises this pickup's towing capabilities to a whopping 12,750 pounds.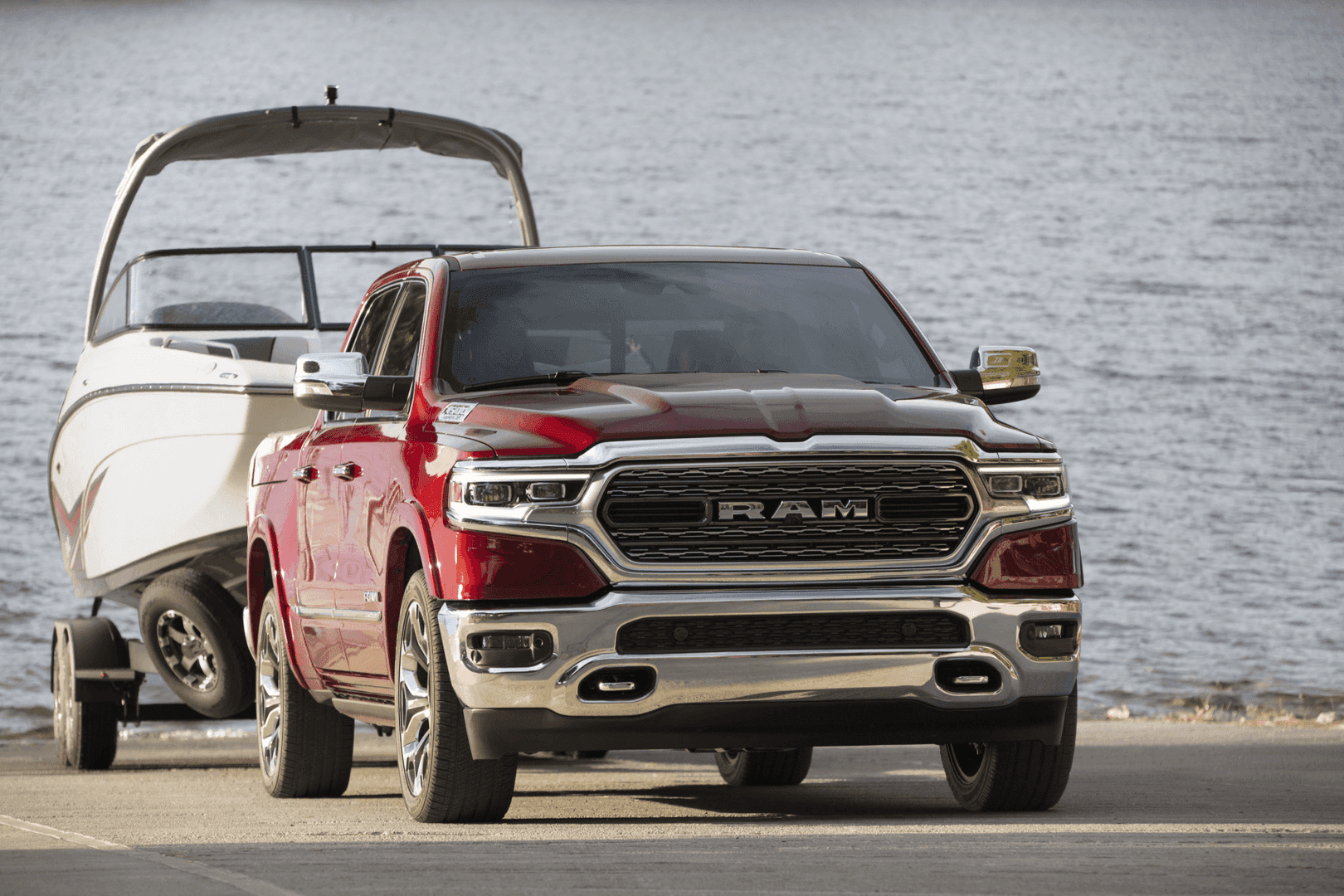 Ram also outfits its trucks like the Ram 1500 with advanced towing technologies to make trailering an easier experience. Some of the available features include:
Trailer Tire Pressure Monitoring System and Trailer Light Check
Trailer-Tow Power-Fold Mirrors
360-Degree Surround View Camera
Trailer Reverse Steering Control
Trailer Sway Control and More!
As you can see, the 2021 Ram 1500 serves up towing numbers that put the Chevrolet Silverado 1500 in second place.
---
2021 Ram 1500 vs 2021 Chevy Silverado 1500: Strength & Handling
Towing capacity says a lot about pickup trucks, but let's not forget about these vehicles' ability to churn out serious numbers on the highway. After all, strength and power are what make trucks so great.
Check out the performance highlights of the Ram 1500 vs. Silverado 1500:
| | | |
| --- | --- | --- |
| 2021 Ram 1500 | vs | 2021 Chevy Silverado 1500 |
| 5.7L HEMI® V8 | Engine | 5.3L ECOTEC3 V8 |
| 395 HP | Horsepower | 355 HP |
Even when we compare the top-performing engines in both trucks, you'll see that the Ram 1500 comes out on top again. This is proven with the Supercharged 6.2L HEMI® available for this model.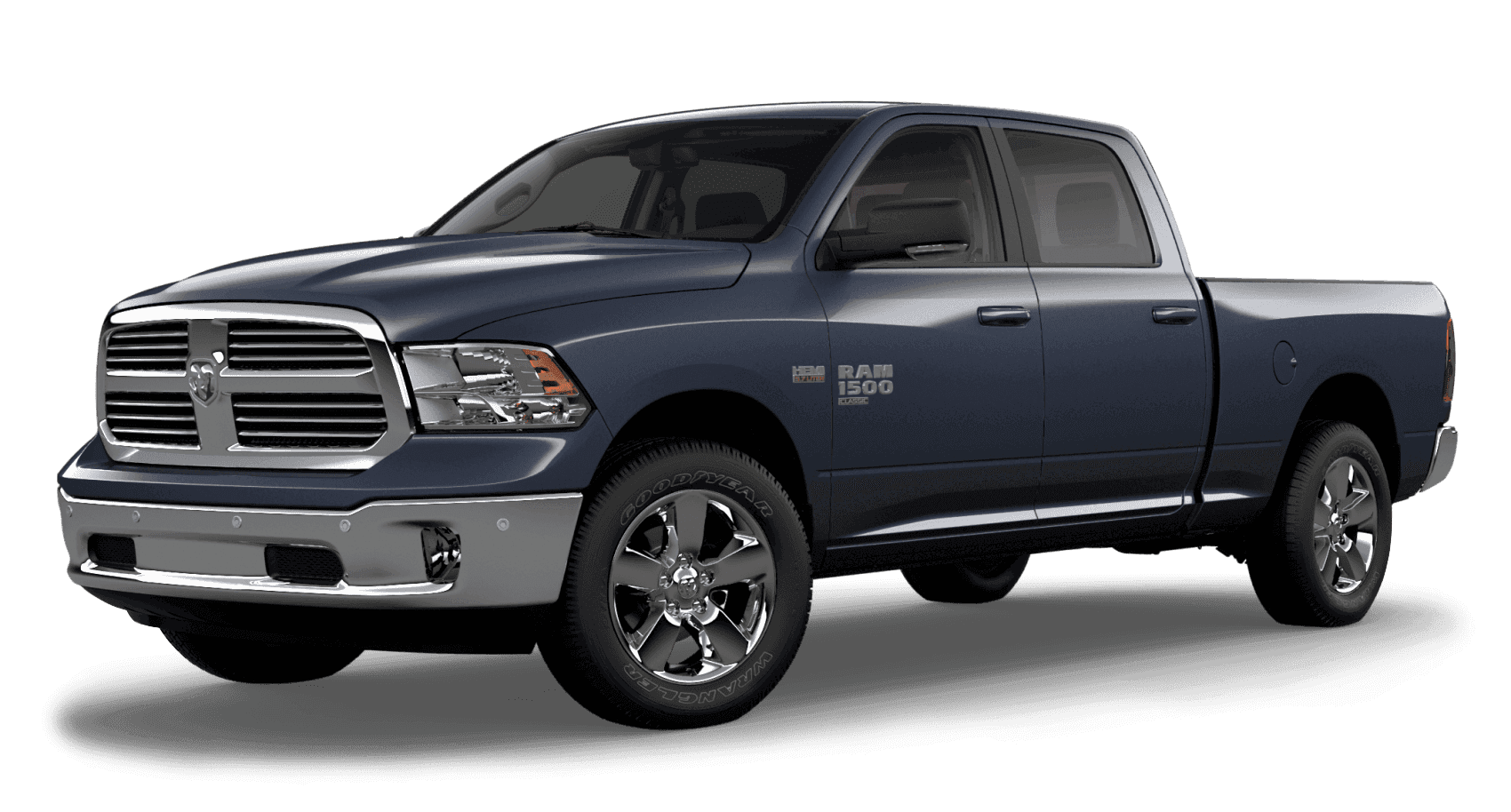 Hailed as the most powerful factory-installed engine ever found in a half-ton truck, you can expect great things from this powertrain. With its incredibly robust 702 horsepower and 650 lb-ft of torque, you can reach top speeds of up to 118 MPH! Plus, with a 0 to 60 acceleration rate of a breathless 4.5 seconds, get ready to see those white knuckles.
Unfortunately, the closest we get to that type of power in the Chevy Silverado 1500 is with the available 6.2L V8 engine. Even with this hard-hitter, you'll still only reach 420 horsepower and 460 lb-ft of torque.
With the stepped-up strength of the 2021 Ram 1500, you can trust that you'll always have the necessary capability to surge to top highway speeds in the blink of an eye. Without the performance output of the Ram 1500, you might find yourself needing a little more muscle on your job site.
---
Ram 1500 vs Silverado 1500: Fuel Efficiency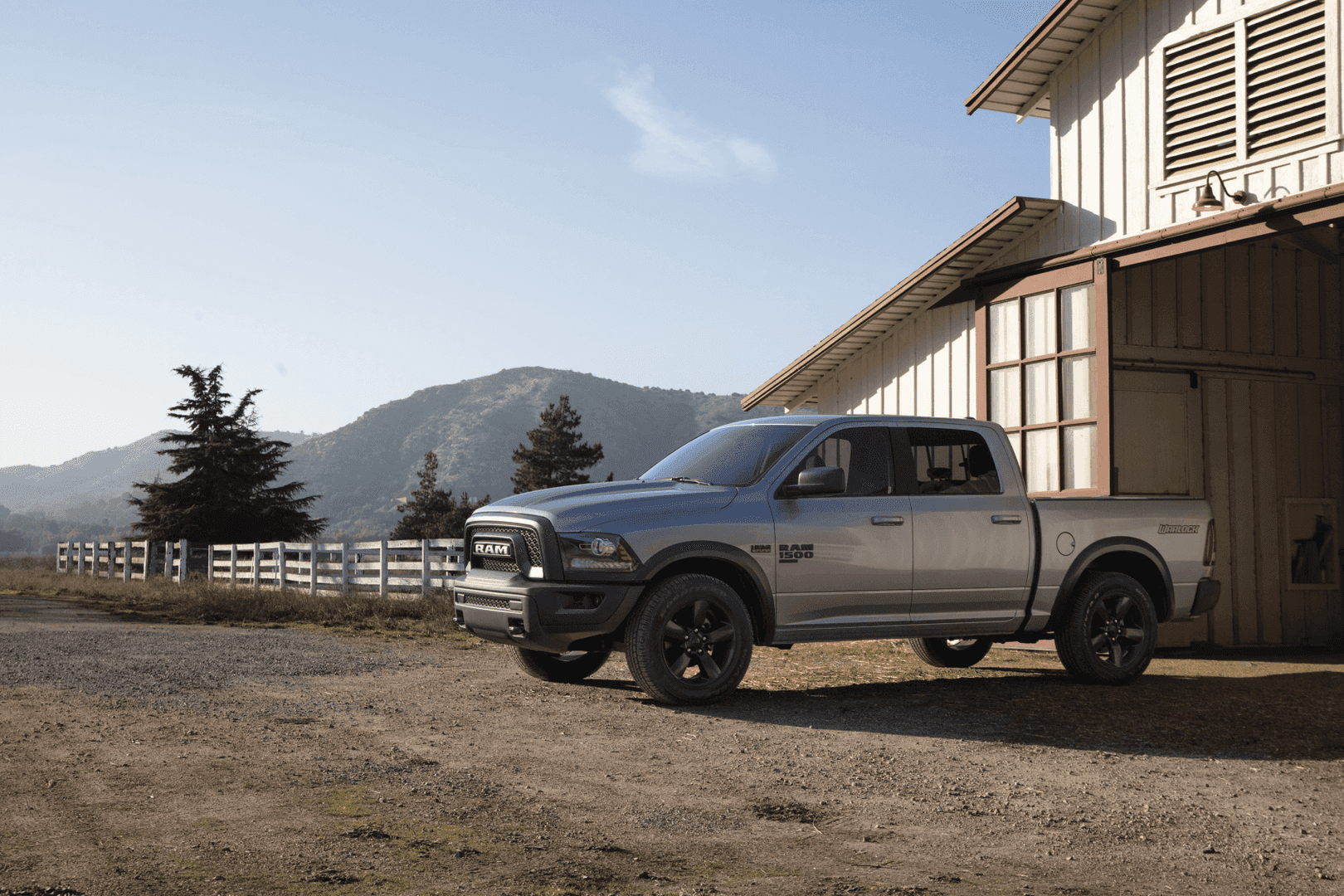 All the power of your pickup should be equally matched by fuel efficiency. When comparing the fuel economies of the Ram 1500 and Silverado 1500, this is what we found.
The second trim level of the Ram 1500, the Tradesman HFE, comes with a standard 3.6L V6 eTorque engine. This powertrain achieves an EPA-estimated 20 city/26 highway MPG. With that kind of fuel efficiency, you'll spend less time at the gas pump and more time on the open road.
Meanwhile, the second trim level of the 2021 Chevy Silverado 1500, the Custom, features a 4.3L V6 motor. Though the 2021 EPA-estimated numbers have not been released yet, we can learn a lot from the previous year's model. In 2020, this trim earned an EPA-estimated 16 city/22 highway MPG.
Unfortunately, the fuel efficiency numbers supplied by the Chevy Silverado 1500 might result in more frequent stops to refuel.
---
Ram vs Chevy: Interior Comfort, Dimensions & Cargo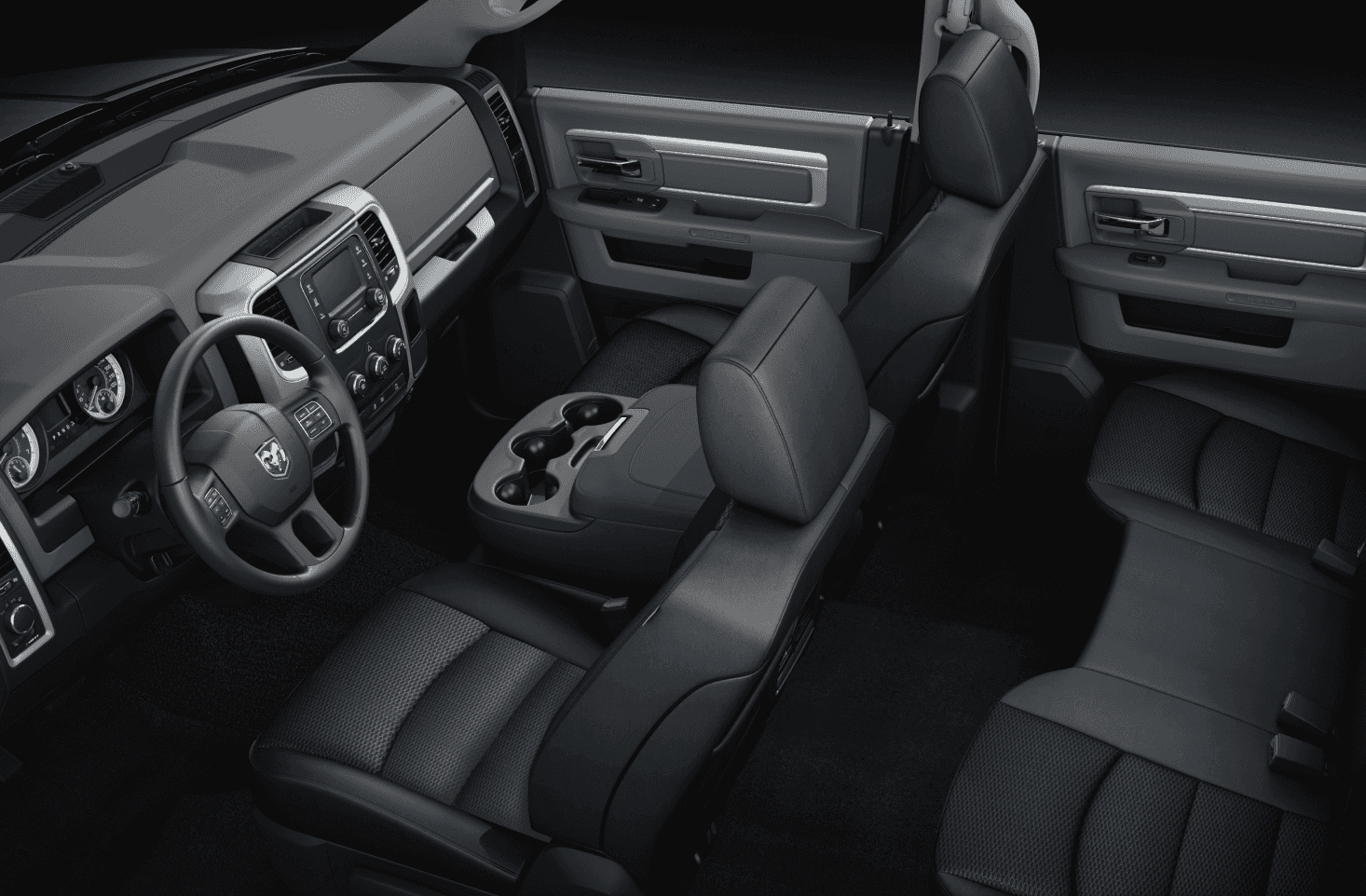 Inside the cabin of your truck, you want to make sure that both you and your passengers remain comfortable throughout the entirety of your journey.
That's why the 2021 Ram 1500 equips you with spacious rear seats with plenty of room for your family and coworkers to stretch out. For instance, the Ram 1500 offers 35.6 inches of legroom, 65.7 inches of shoulder room, and 63.4 inches of hip room in the rear with its Quad Cab configuration.
On the other hand, the 2021 Chevrolet Silverado 1500 presents less room inside its cabin. It measures in with only 35.24 inches of rear legroom, 64.88 inches of rear shoulder room, and 60.24 inches of rear hip room in its Double Cab. What does that mean for you? This pickup may not have enough interior space for optimal passenger comfort.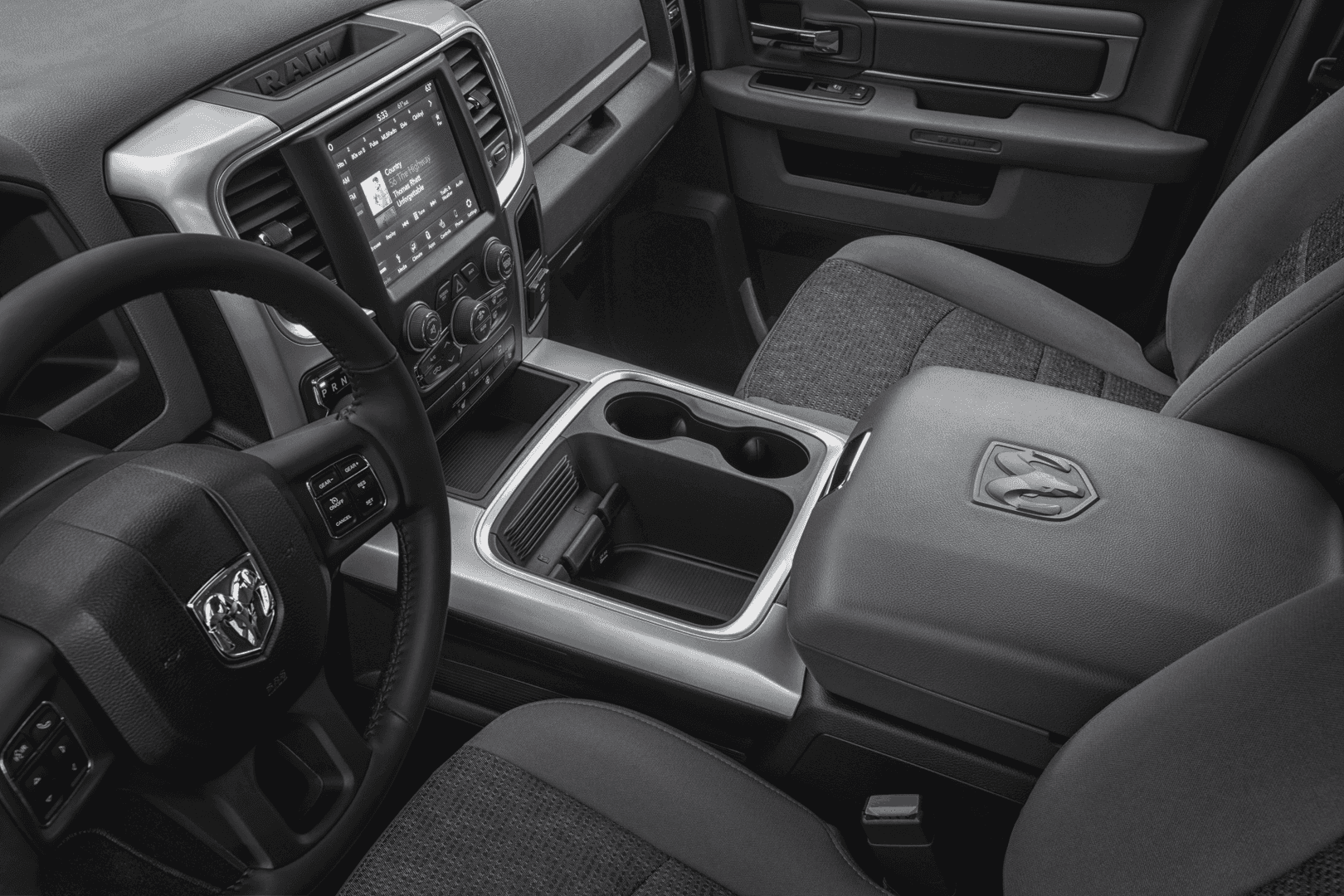 However, you will find spacious cargo in the bed of each truck, no matter which of the bed sizes you choose. Even at their smallest sizes, they both reach over 60 cubic feet, giving you a great area for your tools, adventure equipment, or pretty much anything.
There are a few things you won't find in the Chevy Silverado 1500, though. One of them being the available RamBox® Cargo Management System. This gives you more space in your bed for larger items, while smaller items can be tucked away securely in this weatherproof and lockable feature.
This truck offers a multifunction tailgate that truck drivers are going crazy over. With split 60/40 doors that swing open 88 degrees, you can easily access your bed. Plus, when the tailgate is down, it can handle up to 2,000 pounds!
A similar feature is available for the Chevy Silverado 1500. Though its one-door Multi-Flex Tailgate proves to be less innovative even at first glance.
---
Ram 1500 vs Silverado 1500: Progressive Technology & Instant Connectivity
Your pickup should be just as smart as it is powerful, which is why both the Ram 1500 and Silverado 1500 bring the goods to your cabin thanks to innovative technologies.
Recently, the 2021 Ram 1500 refreshed its cabin with a selection of high-tech infotainment systems, such as the available Uconnect® 12.0 NAV interface.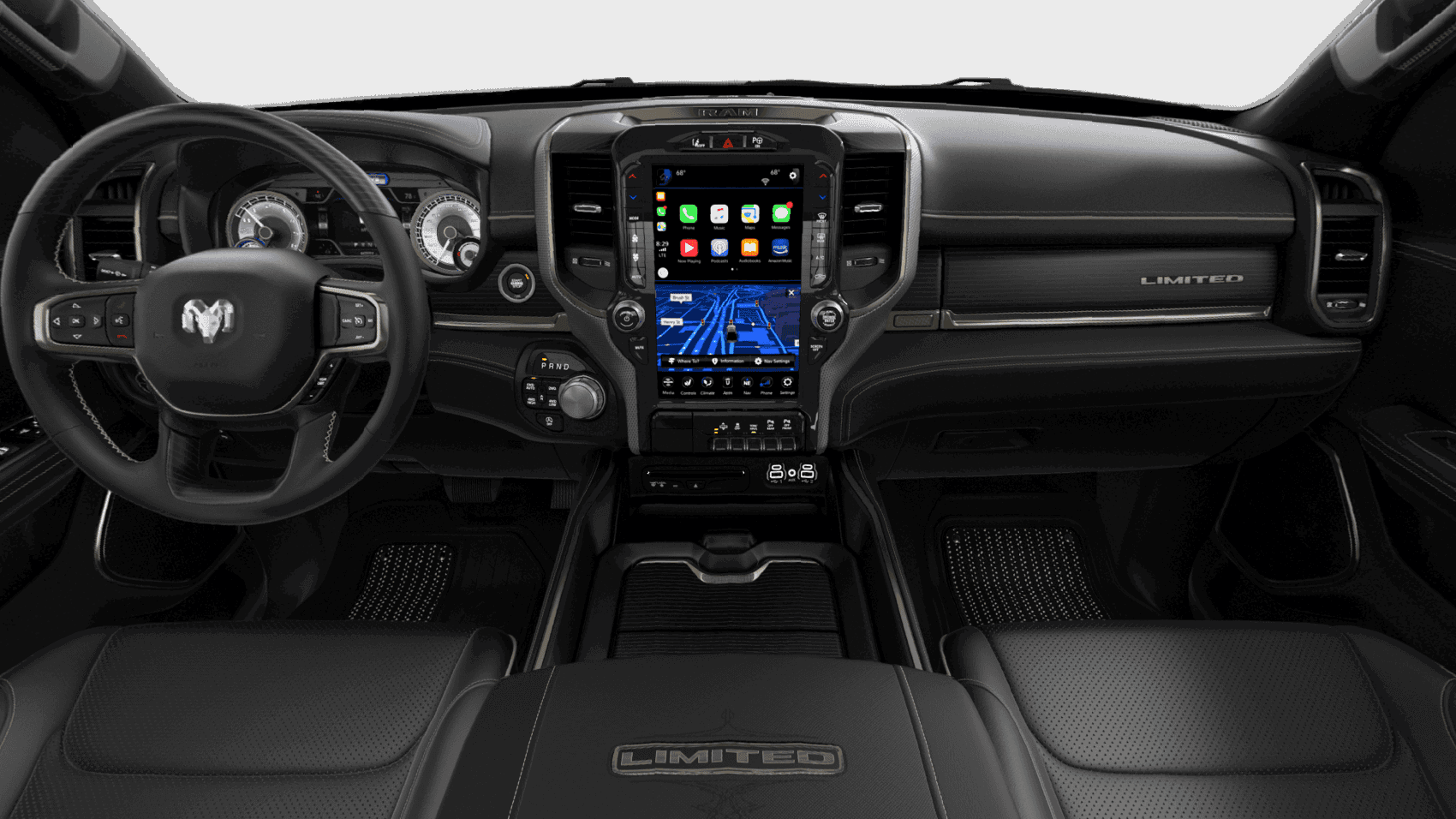 Operating from a stunning 12-inch touchscreen, this advanced portal connects you to a lineup of convenient gadgets, including:
Apple CarPlay®
Android Auto™
SiriusXM® Services
Navigation and more
Alternatively, the 2021 Chevy Silverado 1500 falls slightly short of the infotainment system found inside the Ram 1500. At its best, this truck features an 8-inch Chevrolet Infotainment 3 system with access to technologies like Apple CarPlay® and Android Auto™.
However, the larger touchscreen offered by the Ram 1500 ends up being easier to navigate. Plus, it is better able to support multiple gadgets at once with its split-screen capability.
The Ram pickup truck doesn't stop there, either. If you're looking to really blast your favorite on-the-road playlists, you'll have the available Harman Kardon® Premium Audio System. With its 900-watt amplifier and 19 speakers, your music will sound how it's meant to.
The Chevy Silverado, on the other hand, only offers an available 6-speaker audio system, meaning your listening experience is going to be a bit less immersive.
Ram 1500 vs Silverado 1500 Vehicle Comparison: The Results
Now that you've had a chance to scope out this 2021 Ram 1500 vs. 2021 Chevy Silverado 1500 vehicle comparison, you can see the Chevy pickup has a lot to offer. However, with more power under the hood, incredibly progressive features, and a great fuel economy, we think you're going to love the 2021 Ram 1500.
Of course, the best way to make sure of that is by taking it for a spin along the roads of Hamilton, Madison, and Smyrna, NY, at Friendly CDJR of Hamilton. All you have to do is stop by our showroom or contact us online to schedule your test drive today!