Land Rover vs Jeep
---
You're looking for a vehicle that's more than just a means of transportation. You're looking for a vehicle that'll enhance your commute in and around Hamilton, Madison, Smyrna, NY, and beyond. That's why you're torn between Land Rover and Jeep. Both brands offer high-quality SUVs that can excel on and off the paved roads.
With both brands so similar at first glance, how are you to choose between one or the other? Thankfully, we here at Friendly Dodge Chrysler Jeep Ram of Hamilton have done the hard work for you. We've created this Land Rover vs. Jeep brand comparison to point out the differences between the two.
Ready to figure out which is right for you? Keep reading!
---
Jeep vs Land Rover: A Rich History
Both Jeep and Land Rover have been around since the 1940s and were created to tackle nearly any terrain life may throw your way. While both were created in the same decade, there are some differences in each brand's history.
Jeep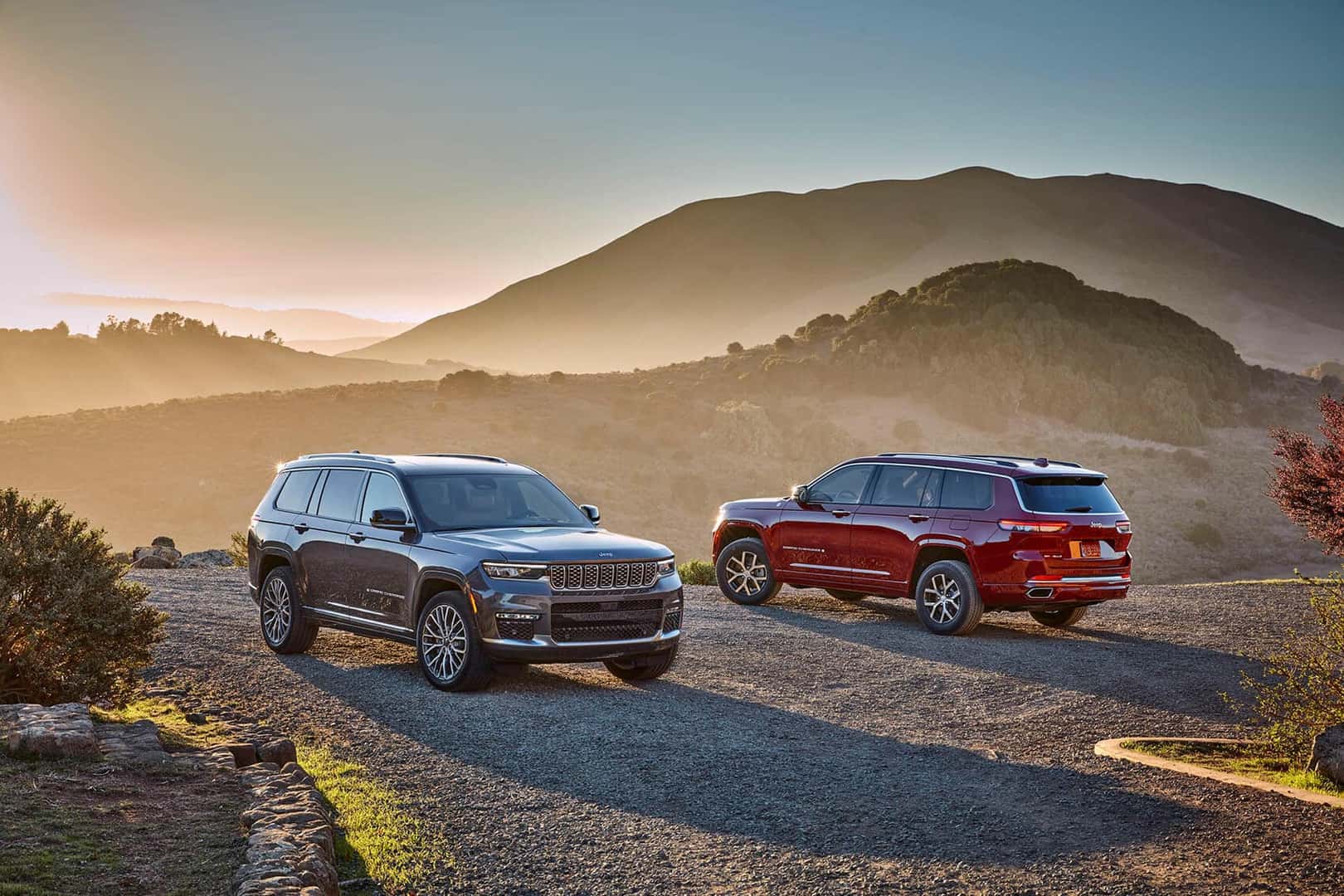 Founded in 1941, Jeep was built with the Go Anywhere. Do Anything.® motto. The revolutionary 4X4 capability of the brand's vehicles were used among civilians and soldiers during WWII. Over the last eight decades, Jeep has strived to expand their core values of freedom, adventure, authenticity, and passion to create an SUV with nearly no limitations.
You may also know Jeep's most iconic model, the Wrangler, from its appearance in the famed Jurassic Park. Observed in the legendary movie as the primary mode of transportation, the Wrangler proved capable of exploring anywhere, even encompassing the prehistoric landscape!
Land Rover
In 1947, the seed of Land Rover was planted inside the mind of Maurice Wilks—Land Rover's innovator. His purpose was to create an SUV that's capable of tackling nearly any terrain. Several decades later, Land Rover continues to improve their adventure technology. Much like Jeep, Land Rover and its expansive catalog of vehicles strives to conquer all terrains, offering a number of vehicles with great versatility.
---
Land Rover vs Jeep: Traversing the Future Driving Landscape
While each of these famed SUV brands started with a few key models in their arsenal, they have both grown to develop a number of different models under their respective brand umbrellas. Both Land Rover and Jeep offer versatile and valiant SUVs that are not only adaptable for different terrains, but incredibly capable when it comes to the daily commute and more modern driving needs.
While this is the case, you will still find differences between the brands and their respective vehicles. While Land Rover has pushed forward with an increased focus on luxury, Jeep has remained true to its original brand ideal of encouraging exploration via unmatched capability. Make no mistake, Land Rover vehicles come quite capable of handling diverse driving conditions; they just do not quite live up to the standard set by Jeep.
Take Jeep's Trail Rated® badge, for example. Jeep puts its vehicles through a number of different tests prior to awarding them the Trail Rated® badge, which signifies advanced capabilities in a wealth of different driving conditions. As driving conditions and new interests continue to evolve, so does Jeep's desire to provide you with an unmatched driving experience, and accordingly, so do their trail rating standards.
Currently, a Jeep Trail Rated® vehicle comes having passed five grueling tests in the corresponding areas:
Traction
Jeep vehicles under the Trail Rated® badge come ready to tackle all sorts of treacherous terrain. Whether you're cruising down the highway or tearing up some mud, you can expect premium traction control.
Water Fording
A Trail Rated® Jeep also comes with sealed body openings and electrical connections as well as a high positioned air intake area, allowing you to take on water-filled roadways with ease.
Maneuvering
You'll also want to have premium control over your ride. As such, each Trail Rated® model comes with precision steering and an optimized wheelbase to handle potentially precarious situations.
Articulation
A Trail Rated® Jeep must also prove up to par when it comes to suspension capabilities. Whether you're climbing a rocky road or riding through a construction site, you can expect a stable driving experience over uneven terrains.
Ground Clearance
Also important to tackling tough terrain is the ground clearance you have. As such, measurements such as your approach and departure angles have been optimized in a Trail Rated® Jeep.
Behind the wheel of a Jeep with all of this capability, the only question you'll need to ask is where you should explore first!
---
All-Terrain Champions: A Look at Two Rugged Models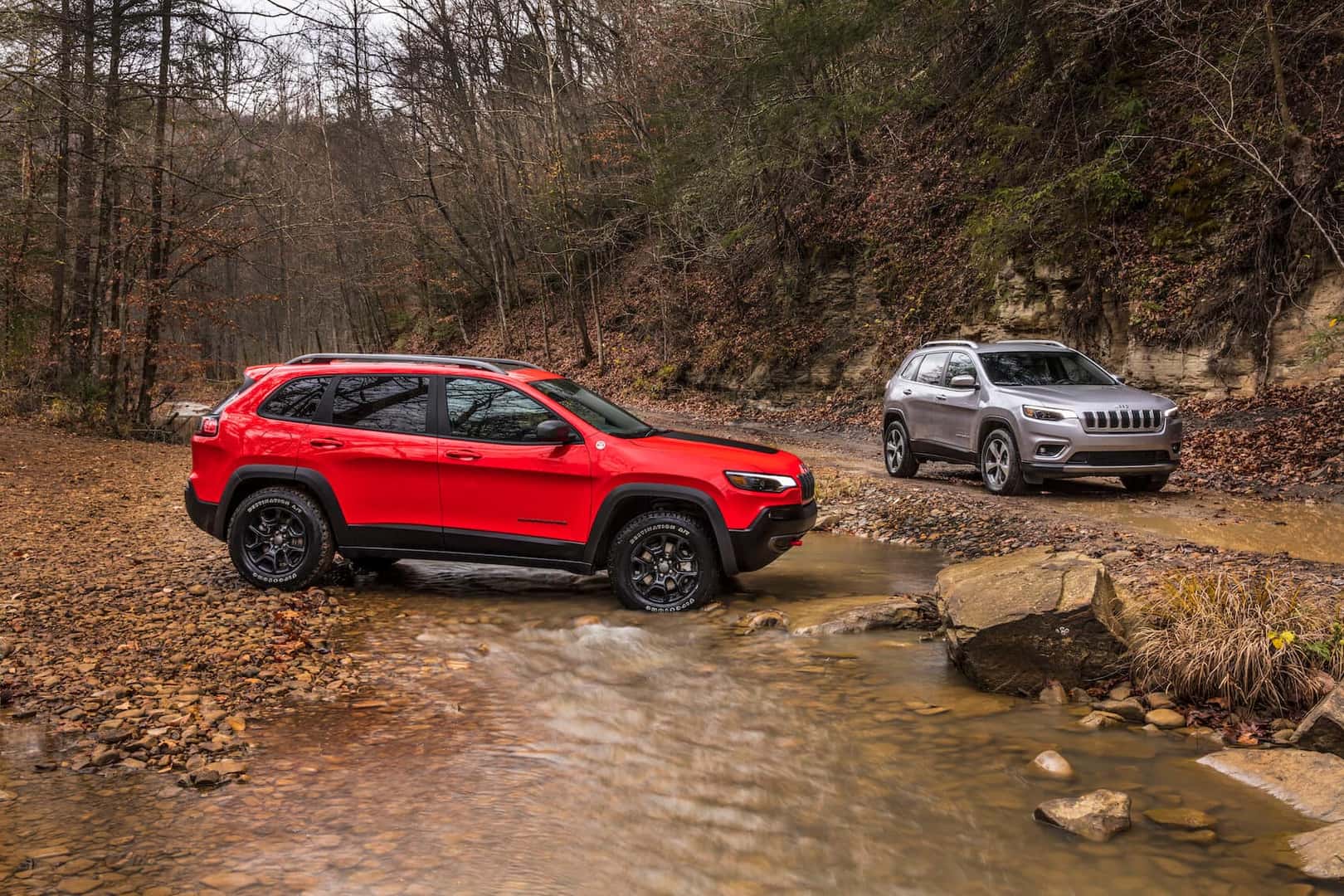 When thinking about a vehicle that can boost your off-road capabilities, you may think about the Jeep Wrangler and the Land Rover Defender. Both SUVs offer adventure-ready technology in terms of towing, traction, and general all-terrain capability. While both vehicles offer incredible off-road performance, when looking at the capabilities of Land Rover vs. Jeep, you'll notice some big differences.
First, Jeep offers a way to stay seamlessly informed regarding your off-road adventures. When equipped with the available Off-Road Pages feature, your Jeep will provide you with stats and information needed to help you optimize your off-road driving performance in real time. You will not find this system in any Land Rover vehicle.
Driving the Jeep Wrangler also allows you to get a more immersive experience with nature, thanks to the open-air configurations you won't find with Land Rover. The Jeep Wrangler allows you to remove the doors, roof, and sometimes even the windshield to get as close to nature as possible without getting out of your SUV.
---
Land Rover vs Jeep: The Verdict
While both SUV brands offer drivers a rich history and collection of off-roading features, for those who want a more nature-immersive vehicle with a history rooted in the U.S. military, Jeep is the brand to improve your commute in and around Hamilton, Madison, and Smyrna, New York, and beyond.
With several Jeep models available with incredible off-road capabilities, we invite you to visit our showroom to learn more about which Jeep vehicle is right for you. Contact us at Friendly Dodge Chrysler Jeep Ram of Hamilton to learn more today!
We hope to assist you in finding your ideal model soon!
---