Land Rover vs Jeep

You're looking for a vehicle that's more than just a means of transportation. You're looking for a vehicle that'll enhance your commute in and around Hamilton, Madison, Smyrna, and beyond. That's why you're torn between Land Rover and Jeep. Both brands offer high-quality SUVs that can excel on and off the paved roads.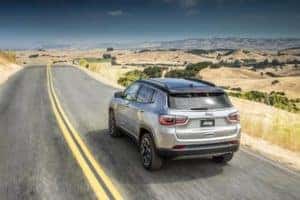 With both brands so similar at first glance, how are you to choose between one or the other? Thankfully, we here at Friendly Dodge Chrysler Jeep Ram have done the hard work for you. We've created this Land Rover vs. Jeep brand comparison to point out the differences between the two.
Ready to figure out which is right for you? Keep reading!
Jeep vs. Land Rover: A Rich History
Both Jeep and Land Rover have been around since the 1940s and were created to tackle nearly any terrain life may throw your way. While both were created in the same decade, there are some differences among each brand's history.
Jeep

Founded in 1941, Jeep was built with the Go Anywhere. Do Anything.® motto. The revolutionary 4X4 capabilities was used among civilians and soldiers during WWII alike. Over nearly eight decades, Jeep has strived to expand their core values of freedom, adventure, authenticity, and passion to create an SUV with nearly no limitations.
Land Rover
In 1947, the seed of Land Rover was planted inside the mind of Maurice Wilks—Land Rover's innovator. His purpose was to create an SUV that's capable of tackling nearly any terrain. Several decades later, Land Rover continues to improve their adventure technology.
All-Terrain Champion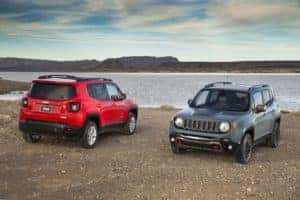 When thinking about a vehicle that can boost your off-road capabilities, you may think about the Jeep Wrangler and the Land Rover Defender. Both SUVs offer adventure-ready technology in terms of towing, traction, and general all-terrain capability. While both vehicles offer incredible off-road performance, when looking at the capabilities of Land Rover vs. Jeep, you'll notice some big differences.
First is the ground clearance of these two off-road SUVs. When driving over obstacles of both are possible, you'll have plenty of ground clearance to help you tackle the trails. Keep in mind, though, that only the Wrangler offers Off-Road Pages to keep you informed about off-road stats from the cabin.
Driving the Jeep Wrangler also allows you to get a more immersive experience with nature, thanks to the open-air configurations you won't find with Land Rover. The Jeep Wrangler allows you to remove the doors, roof, and, sometimes, the windshield to get as close to nature as possible without getting out of your SUV.
Land Rover vs Jeep: The Verdict
While both SUV brands offer drivers a rich history and collection of off-roading features, those who want a more nature-immersive vehicle with a history rooted in the U.S. military, Jeep is the brand to improve your commute in and around Hamilton, Madison, Smyrna, and beyond.
With several Jeep models available with incredible off-road capabilities, we invite you to visit our showroom to learn more about which Jeep vehicle is right for you. Contact us at Friendly Dodge Chrysler Jeep Ram to learn more today!